Eat Wellbeing
Starting 1st September 2022
This is my signature 4-week programme that has helped hundreds of people in the last number of years create healthier habits and simply feel better in themselves. This course gives you clarity and a better understanding of what is healthy and what is not and why. You will get the support of group session and accountability to get really stuck into it. 
The Brain Health Programme
Starting Autumn 2022
Since Covid so many people are reporting lack of energy and the inability to concentrate. The stress of the previous few years has had an impact on our mental wellbeing as much as physical. This course was designed to reverse or prevent cognitive decline but it will just help you to feel overall better in yourself again. 6-weeks – group sessions and material.
Food & Mood Workshop
Lunch time workshop (Next date tbc)
In this one-hour presentation and workshop, you will find out how certain foods can add to your overall stress-level. It is often the foods we crave, such as sugary foods. Find out what to eat and not to eat to get you from feeling stressed & overwhelmed to your happy relaxed place.
20 Minutes Can Change Your Life!
Our bodies are absolutely amazing and when we look after them well, and feed them only what they are designed to deal with, they will look after and make us feel and look great again!
Let me help you along the way!
Are you fed up putting up with sign of ageing and want to turn back the clock?
Here is the solution!
Find plenty of tips and information what foods and lifestyle choices are now necessary if you want to continue living an active and healthy life in your 50's, 60's and beyond!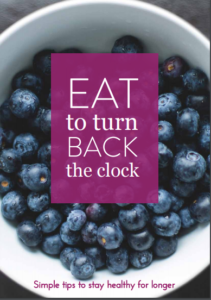 Note:  Don't worry, I won't spam! You are subscribing to my monthly newsletter with latest info, upcoming programmes, articles, and recipes.