When I was just over 40, I was unhappy, unfit, and I was putting on weight which I couldn't shift any more. Sound familiar?
I often felt so tired,  I couldn't even get out of bed and I was not in a good place mentally either. I blamed getting older and my under-active thyroid.  However, after seeing a Nutritional Therapist, I made small changes which had a huge effect on my energy levels and general well-being. This extra energy motivated me to start running again, which motivated me to look even deeper into what I was eating. And I had even more energy to train even more. I was on an upward spiral.
The changes were so profound that I knew I had to share this knowledge.
I trained to become a qualified Nutrition & Health Coach at the Irish Institute for Nutrition & Health then continued on to train as Nutritional Therapist (Crossfield).
Now, I help busy women who want to get their energy back, feel like their "old" self again and want to spend their lives happy & healthy. I do this by getting to the root cause and finding the right nutrients they need right now, but most importantly with the right coaching tools so they can achieve their own health goals. I'm not just give nutrition plans, I also give confidence to follow one.
It is not just about knowing WHAT to do, it's about finding ways of the HOW and WHY.
I passionately believe (and I am living proof of it) that you can be fitter & stronger and have more energy at any stage in your life. I want to make you feel empowered to take charge of your life and health through nutrition & lifestyle, if what you've been trying so far has failed and let you down. 
Read about me in the newspaper: Bray People 2014, Irish Independent 2019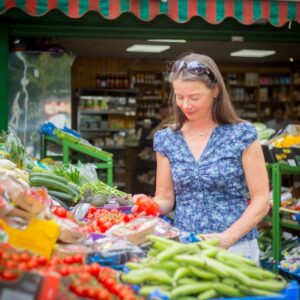 Healthy eating does not mean boring diets or deprivation. Healthy eating means eating nutritious and satisfying foods that nourish & heal your body.
20 Minutes Can Change Your Life!
Our bodies are absolutely amazing and when we look after them well, and feed them only what they are designed to deal with, they will look after and make us feel and look great again!
Let me help you along the way!
Training & Qualifications
I trained to become a Nutrition & Health Coach at the IINH (Irish Institute for Nutrition & Health) with a BTEC and ITEC Qualification, and then continued on to train as Nutritional Therapist (Crossfield).
While I was studying I also worked at Orsmond Clinics, motivating and supporting many people on their weight loss journey.
As a qualified, certified Nutritional Therapist, I am a member of the professional association (NTOI). Every NTOI member must comply with the NTOI Code of Ethics and meet on-going CPD requirements.
Kind Words From My Clients
If it can happen for them, it can happen for you!
The DNA Test has really helped me stick to the guidelines
I signed up for the "Nurture your mind and body" group programme with Ilona in July/Aug 2020 as I was struggling again with my weight, but I didn't want to do a predetermined weight-loss- routine. I had tried various diets and was hardly eating anything but I was still not losing weight anymore. I was… also struggling with a few other health issues. The programme was really enjoyable has really shown me how everything in our bodies is connected, and by understanding the scientific way of what food does in your bodies, really helped me to implement the advice. The 6 sessions helped to clarify so much for me – linking the food intake with insulin resistance, dementia, exercise etc. It all made so much sense. I noticed a huge improvement within the 6 weeks in my energy levels, digestive issues and overall wellbeing. However, I wanted to find out more about what is actually going on in my body, and as there has been diabetes in my family, I was really interested in doing the My DNA Health test. This test helped me understand many of my own symptoms and that indeed there is a genetic component to it. This test provided the most accurate description of me and I found it enlighting and confirming. The recommendations gave me the confidence to stick to the recommendations because they explained for me WHY I have to follow them. The alternative for me to is to face the ill- health and suffering that my late- Mum went through due to a lack of understanding of her health issues. Even though I knew there was possibly a genetic component, I wasn't sure if it was relevant for me. I wouldn't Having the genetic pre-disposition in black and white and having received the personalised nutrition and lifestyle plan makes me feel empowered that there is indeed something I can do myself and so it is easier to stick to the general guidelines. Ilona has been really great in explaining the test results and the recommendations to me in the initial consultation and the follow-up 4-weeks later. I now feel that I have a nutrition and lifestyle plan that I will actually stick to and that works for me. And I finally have been losing weight, which is an added bonus! Read more "The DNA Test has really helped me stick to the guidelines"
Jennifer
Bray, Co Wicklow
Are your sugar cravings sabotaging your best efforts to stay healthy?
You're Not Alone! 
Find plenty of tips and tricks to ditch those cravings and develop a healthy relationship with the sweet things in your life!
Note:  Don't worry, I won't spam! You are subscribing to my monthly newsletter with latest info, upcoming programmes, articles, and recipes.