Eat Well-Being!
4-week group online course – starting Sept 2022
If you don't want another weight loss or detox January programme, but rather find out what to eat to feel overall great and full of vitality, then this is the course for you!
This 4-week course will cover all aspects of healthy eating & lifestyle from nutrition, gut health, sleep, stress reduction and exercise to help you create new sustainable habits.
Wellness Walks!
Watch out for next available dates!
These guided walks are designed to give you a feel-good experience that will last long after the day. 
We combine historical and information about the place with current information on a healthy lifestyle. The walks will vary in length and difficulty and will cover different topics each time. 
Learn and experience how well you can feel with the right nutrition and lifestyle habits. 
Escape from everything
3 day Wellness & Reset – Spring 2023 – venue tbc
You got through the last two years of lock-downs, home office, home-schooling, looking after family members, always putting others first – now it's time to look after yourself! But hang on…
There's still the busy household, your husband is still working from home, the kids still need to be taxied around. You still don't have time out and time to reflect on your health. Don't forget, you won't be of any help if you are exhausted!
This retreat will not only give you time out for 3 days, it will also help get your motivation back on track and give you the tools for a healthier and happier lifestyle you can stick to!
"Eat wellbeing" is about feeling well in yourself – physically and mentally.
20 Minutes Can Change Your Life!
Our bodies are absolutely amazing and when we look after them well, and feed them only what they are designed to deal with, they will look after and make us feel and look great again!
Let me help you along the way!
Are you fed up putting up with sign of ageing and want to turn back the clock?
Here is the solution!
Find plenty of tips and information what foods and lifestyle choices are now necessary if you want to continue living an active and healthy life in your 50's, 60's and beyond!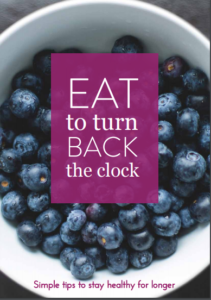 Note:  Don't worry, I won't spam! You are subscribing to my monthly newsletter with latest info, upcoming programmes, articles, and recipes.