Movement – enjoyment – nourishment 
Wellness Walks
The next one will take place on:
Saturday: tba (March 2023)
11 am – apprx. 2/3 pm – Rathdrum
This walk is aimed at people with moderate fitness level who want to spend a relaxing day in nature with like-minded people. 
During the walk, I will share some information about the area and stories of Irish Food History, and will blend this with most up-to-date nutrition and lifestyle information. 
You will leave this walk energised and motivated to get started with some of the recommendations, so that the memories of this walk will last with you for a long time. 
Good hiking boots and a rucksack with water and a lunch is required, however, I will provide you with some healthy snacks to taste when we are having our picnic overlooking the beautiful scenery of the area near the river Avon.
I will be talking a little bit about eating for wellbeing and share some of my healthy snack ideas that keep me going when I need to spend longer time outdoors or simply when I'm too busy running around.
This is a fun way of learning about healthy eating amongst like-minded, and it has shown to help many getting back on track or kick-starting a healthy eating and lifestyle journey. There has always been a great buzz on previous walks and the participants came away with new knowledge and great motivation.
Any questions, please email!
Booking is essential.
20 Minutes Can Change Your Life!
Our bodies are absolutely amazing and when we look after them well, and feed them only what they are designed to deal with, they will look after and make us feel and look great again!
Let me help you along the way!
Are you fed up putting up with sign of ageing and want to turn back the clock?
Here is the solution!
Find plenty of tips and information what foods and lifestyle choices are now necessary if you want to continue living an active and healthy life in your 50's, 60's and beyond!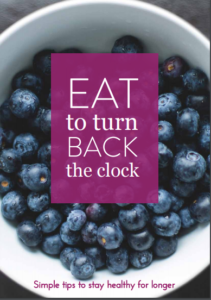 Note:  Don't worry, I won't spam! You are subscribing to my monthly newsletter with latest info, upcoming programmes, articles, and recipes.