Programmes
Group Workshops
This is a program that is ideal if you don't want to spend as much money for a One-to-one, if you prefer a group setting and if you like to "try" Nutritional coaching. This is a 4-week program where you meet once a week in a small group of max. 7 people.
At each meeting will cover certain topics around nutrition and eating habits, and will then provide time for  Q&A, as well as group discussions and motivation.  There will be some homework as well for the week.
Topics that will be covered, are general healthy eating, tips to implement healthy eating into a busy life-style, tips for effective and long-lasting weight loss, tips for suitable exercise plans and there will also be an optional additional evening/day for a cooking demonstration.The emphasis is on active participation rather than simply listening to a presentation. You will not have to count calories or points, there won't be sins or cheat meals, and you don't have to weigh-in and you're not being poked with fat calipers. This is about educating and motivating you, so that you are empowered to make your own choices.
20 Minutes Can Change Your Life!
Our bodies are absolutely amazing and when we look after them well, and feed them only what they are designed to deal with, they will look after and make us feel and look great again!
Let me help you along the way!
Are you fed up putting up with sign of ageing and want to turn back the clock?
Here is the solution!
Find plenty of tips and information what foods and lifestyle choices are now necessary if you want to continue living an active and healthy life in your 50's, 60's and beyond!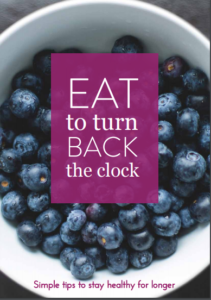 Note:  Don't worry, I won't spam! You are subscribing to my monthly newsletter with latest info, upcoming programmes, articles, and recipes.