"Enjoy a Happy & Healthy Christmas 2021" 
Tuesday, 23rd Nov 2021 – 7 pm – online
wiChristmas for many people means overindulgence and nobody wants to feel restricted over the festive season.
But there is a way in between. In this 1.5hour Masterclass, I will show you how you can enjoy a Happy and a Healthy Christmas without overindulgence. Instead you will find out how to enjoy your food even more and eat more mindfully. You will find out healthy and delicious alternatives to Christmas classics.
And you will get plenty of nutritious recipes that you can prepare and give as healthy gifts to your friends and family.
And you will get a daily email nudge with tips, recipes, thoughts, motivational quotes and much more between your Masterclass and Christmas eve – just to make sure to keep you on track. There will be interactive quizzes as well which will give you a chance to win a place in my 4-week Nutrition Transformation Programme in January!
Join in for a festive evening with fun and information!
€ 49 (limited to 10 people)
"Fasting & Detox" 
3rd February 2022- 7 pm – online
 Is "Detox" just another fad?
What's the story with "fasting"? Is it really healthy or just a quick-fix diet?
There is so much (mis-)information out there about fasting and detoxing and it is a multi-million dollar business.
On the other hand fasting has been around for thousands of years and form and important part of most religions. 
In this 1.5 hour Masterclass you will find out the science behind fasting and what kind of fasting and detoxification makes sense.
You will leave with more clarity and understanding so that you can decide for yourself and find the best and easiest ways for yourself, and what you will benefit most from. 
Find out how fasting can help you can cleanse your body, give you more energy and can help get rid of food/sugar cravings!
€ 49 (limited to 10 people) 
20 Minutes Can Change Your Life!
Our bodies are absolutely amazing and when we look after them well, and feed them only what they are designed to deal with, they will look after and make us feel and look great again!
Let me help you along the way!
Are you fed up putting up with sign of ageing and want to turn back the clock?
Here is the solution!
Find plenty of tips and information what foods and lifestyle choices are now necessary if you want to continue living an active and healthy life in your 50's, 60's and beyond!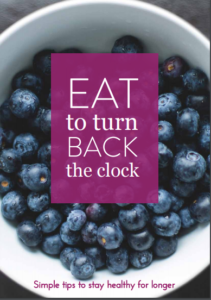 Note:  Don't worry, I won't spam! You are subscribing to my monthly newsletter with latest info, upcoming programmes, articles, and recipes.