Enjoy brain food – feel motivated
– ditch the sugar cravings!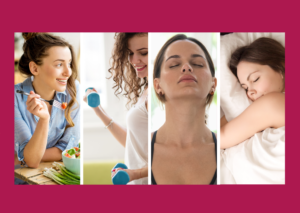 Enjoy Brain Food - Ditch the Cravings in 7 days!
From sugar cravings and energy crashes to feeling motivated and enjoying food.
Are sugar cravings sabotaging your best efforts to follow a healthy nutrition plan?

Are you "good" all day and in the evening you find you can't stop eating?

Do you find yourself eating more since the lock-down?
Then this self-guided online course is right for you!
What will you achieve?
You will find out what foods to eat to feel more motivated and energised.
You will find out ways to "hack" your brain to over-rule those cravings.
You will finally overcome those cravings that kept sabotaging you in the past - and will effortlessly enjoy healthy eating!
No calorie counting!
No weighing scale!
Not feeling hungry!
This course is for you if you are currently struggling to get back into a healthier routine because sugar cravings are boycotting your best efforts.
This course is for you if you want to find out tips and tricks to reset your body in 7 days and feel motivated again!
This course is for you if you want to find out why previous "diets" haven't worked.
This course is not for you if you are looking for quick-fix weight loss programme, although generally, people tend to lose a few pounds if they follow the guidelines in this programme.
This course is not for you if you are not prepared to put some effort into it.
This course is not for you if you are not ready for change because you are happy with your health and the way you feel at the moment.
Don't wait for the "right" moment or for your motivation - start now!
What is included?
A one-hour recorded video tutorial that you can watch at your own pace anytime.
Worksheets and a Health & Energy Assessment form to track your progress.
eBook "The Sugar Balance"
eBook with low carb recipes and shopping list.
7 Days email follow up to keep you on track.
Accountability check.
Access to a private Facebook group where you can ask me any questions.
If you like to find out more whether this is the right course for you, click below and book a call with me.
Haven't got the energy to take part in a webinar just yet?
Our bodies are designed to be full of energy all day long. However, we often tend to put it down to age, our current situation or our current mood, if you don't feel full of beans. We often are putting up with low energy levels for quite some time.
However, low energy could actually be the first sign that some other health issues are going on in your body right now, and your body is using this as sign for you to slow down to protect you.  In many cases, it is actually as simple though as giving your body the right nutrients that it needs right now! This way you are not only improving your energy at the moment, but also your overall health. 
​
Working with a nutrition expert and health coach gives you the support you need to prioritise your health. Changing your eating habits does not happen overnight though. Many clients choose to work with a Nutritional Therapist long term so that there is always someone there who holds you accountable for and keeps you stay focused and motivated. And sometimes simply to get you back on track! 
 How would you rate your energy on a scale of 1-10?
If it is not at least an 8, why don't you book in a complimentary Health & Nutrition assessment now? Or download your free "Boost your energy guide" now from below.
"In Chinese Medicine it has long been recognised that low energy or "qi" can affect the body as a whole or just specific organs that cause different symptoms. A general "qi" deficiency may cause some overall symptoms of fatigue and illness.
– Chinese Medicine
Hi, I'm Ilona Madden, certified Nutritional Therapist and Health & Lifestyle Coach.